H-OMV
Lines: Agrícola, Construção civil, Industrial, Rodoviária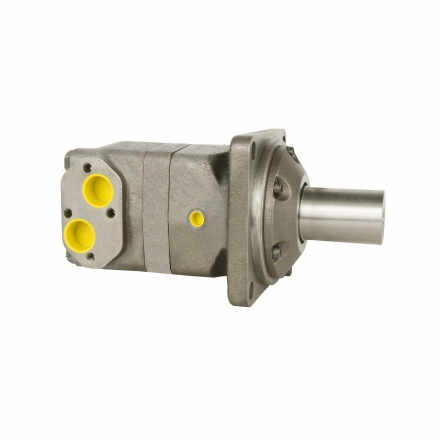 DESCRIPTION
Series H-OMV of Hybel orbital hydraulic-oil motors are built with extreme precision, ensuring high quality standards and high performance. They are pieces of equipment developed with noble materials, divided into several volumetric displacements, with 341,5 until 801,8 cm3/rotation range, 240 barmaximum pressure and 250 until 630 rpm rotation ranges up to a 2110 Nm maximum torque.
REQUEST QUOTE
DOWNLOAD OUR FILES:
DOWNLOAD OUR CATALOG
PERFORMANCE DATA
When you think about light equipment and hard work.
Parâmetro
Unidade
Opções Volumétricas
Tamanho Nominal
TN
315
400
500
630
800
Deslocamento Volumétrico
cm³/rot
314,5
400,9
499,6
629,1
801,8
Rotaçõa Máxima Contínua
rpm
510
500
400
315
250
Rotação Máxima Intermitente
630
600
480
380
300
Torque Máximo Contínuo
Nm
920
1180
1460
1660
1880
Torque Máximo Intermitente
1110
1410
1760
1940
2110
Potência Máxima Contínua
hp
57,0
71,7
64,4
57,0
Potência Máxima Intermitente
68,4
85,8
75,1
64,4
Pressão Máxima Contínua
Bar
200
180
160
Pressão Máxima Intermitente
240
210
180
Vazão Máxima Contínua
L/min
160
200
Vazão Máxima Intermitente
200
240
Peso Motor
Kg
31,8
32,6
33,5
34,9
36,5
BACK