H-DS
Lines: Agrícola, Construção civil, Industrial, Rodoviária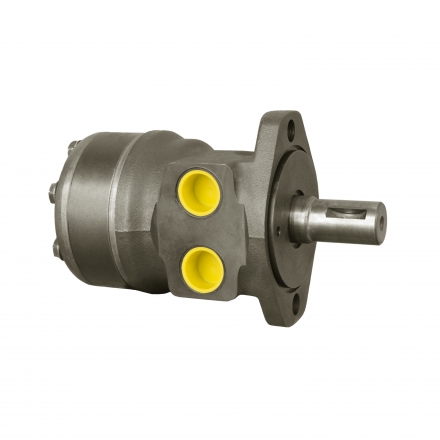 DESCRIPTION
Series H-DS of Hybel orbital hydraulic-oil motors are built with extreme precision, ensuring high quality standards and high performance. They are pieces of equipment developed with noble materials, divided into several volumetric displacements, with 51,6 until 390,7 cm3/rotation range, 172 barmaximum pressure and 155 until 770 rpm rpm rotation ranges up to a 515 Nm maximum torque.
REQUEST QUOTE
DOWNLOAD OUR FILES:
DOWNLOAD OUR CATALOG
PERFORMANCE DATA
When you think about light equipment and hard work.
Parâmetro
Unidade
Opções Volumétricas
Tamanho Nominal
TN
50
80
100
125
160
200
250
315
375
Deslocamento Volumétrico
cm³/rot
51,6
80,3
99,8
124,1
155,4
198,2
248,1
310,1
390,7
Rotaçõa Máxima Contínua
rpm
770
755
605
480
380
305
245
190
155
Rotação Máxima Intermitente
955
945
760
600
475
380
305
240
195
Torque Máximo Contínuo
Nm
93
159
193
247
314
350
370
415
455
Torque Máximo Intermitente
116
206
237
304
378
429
469
485
515
Potência Máxima Contínua
hp
8,9
14,3
12,9
10,7
9,3
7,8
Potência Máxima Intermitente
10,5
17,4
16,9
15,8
13,3
10,7
9,3
Pressão Máxima Contínua
Bar
138
124
107
97
83
Pressão Máxima Intermitente
172
155
138
114
97
Vazão Máxima Contínua
L/min
40
60
Vazão Máxima Intermitente
50
75
Peso Motor
Kg
6,7
6,9
7,0
7,2
7,5
8
8,5
9
9,3
BACK